Juniper Seed Mercantile is proof that luxurious, effective, organic beauty does not have to be expensive. Their motto is "Down To Earth Decadence" allowing you to  take care of your skin and the environment at the same time, without spending a fortune!
With it's best availability on Etsy, Juniper Seed Mercantile is grassroots enough to keep you on budget, but savvy enough to package with polish. And that's why their Etsy shop is blowing up!
At only $11, the Soft Whipped Facial Creme Soap with Ground Walnut Shells and Tea Tree Oil is everything I've ever wanted in a face wash. I use tea tree oil all the time to soothe skin redness but I also love the exfoliation of walnut shells. And I love even more that it comes already whipped to perfection, unlike many cleansing grains meant to be mixed with water – leading to a serious mess in my bathroom sink.
The Cucumber Eye Cream is rich with cucumber and calendula oil, and great for super sensitive skin around the eyes. And the Cucumber Rose Facial Toner is a skin-softening, hydrating cleanser for all skin types.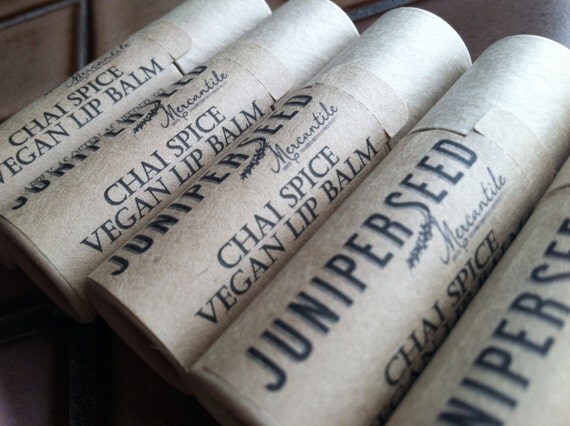 One of their coolest products – and one of my 2015 Best of Natural Beauty Winners – is their lip balms – 100% plastic-free and compostable! The waste-hater in me is simply giddy with these compostable paper tube lip balms, which are double the size of a typical plastic tube so they last even longer! My favorite is the Chai Spice blend, sweetened with stevia and scented with cardamom, cinnamon, black pepper and other spices – completely natural and perfect for anyone with sensitivities to artificial flavors. It's also beeswax free for the vegan crowd.
Plus each order usually arrives with a sample item which you can even pick out yourself!
Joan and Tiffany are the incredibly sweet mother-daughter team that makes up Juniperseed Mercantile. They are passionate about using earth-friendly ingredients, responsible packaging, and ship all of their orders using reclaimed materials and paper tape. Many of their ingredients are organic, and they source their palm oil from Brazil to protect the Orangutan habitat in Indonesia. They are hardcore eco in the best way possible! 🙂
Check out their Etsy shop and stock up at https://www.etsy.com/shop/JuniperseedMerc. (p.s. Did you know Ebates now gives back 1% on Etsy purchases?
Disclosure: This is a sponsored post. I received samples of these products for review as well as monetary compensation. Regardless, my opinions are honest. See my full disclosure here. 
P.S. If you liked this post you might enjoy my monthly newsletter. Receive green living news, discounts, giveaways, and events delivered right to your inbox! Sign up HERE.
---