Snack Pack and Lunch Box Picks + a ReUsies Giveaway
Brown bags and plastic wrap are such a waste. Fortunately, waste-free lunches have become fun and festive. Whether you have a nostalgia-style lunchbox or a modern bento-style case, with a few extra accessories you'll have the goods you need to never have "snack-bag-throwaway-guilt." However, the level of guilt in the actual snack is up to you. 😉
Laptop Lunches are American-style bento boxes designed to help you pack nutritious, eco-friendly lunches. The stylish lunch boxes are reusable, recyclable, and dishwasher safe. No phthalates, BPA, or lead in these plastics. And they even come with a book of healthy lunch ideas and creative lunchmaking tips and recipes.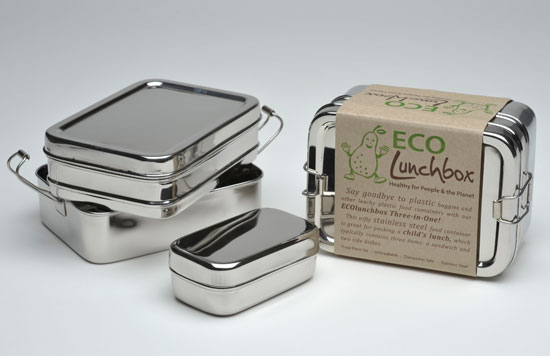 ECOLunchboxes build on the same idea as the laptop lunches, but with a stainless steel twist. I love the tiffin-style of the stacking containers, and the stainless steel is undeniably sturdy and safe.
Ziplocs be gone! ReUsies are a re-usable alternative to sandwich/snack bags, and each one has the potential to eliminate hundreds of plastic bags. ReUsies are 100% cotton lined with leak-resistant nylon and are secured with velcro closures. Easy to clean in the dishwasher or laundry – and great to keep stashed in your purse or glove compartment for emergency snack meltdowns.
GIVEAWAY:
Win your own ReUsie Sandwich-Sized Bag by entering this giveaway! All you have to do to enter is leave a comment on this blog post telling us what you use to pack your kids' snacks and lunches. Bonus entries for following Spit That Out on Facebook and Twitter. Just leave a separate comment for each entry. Contest closes 12/31 and a winner will be randomly selected.
Disclosure: Some of these companies gave me samples for review. Some didn't. Regardless, my opinions are honest, as are Sam's. See my full disclosure here.
---